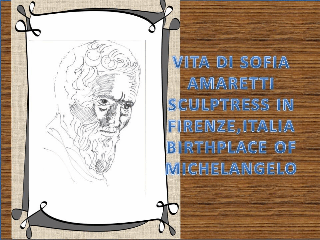 "AMORE"
Fun from Florence/Firenze Italia with the
Amaretti family on their vineyard.
Luigi, Carla, Sofia-the sculptress
and Almonda-the vine expert.
The family's two main wines are
a robust red- VIA SOFIA and a
delicate white-MONDI AMARETTI.
Sofia and her pal, Luisa visit the
Uffizi gallery constantly and were
inspired by Michelangelo Buonarotti
to take up sculpting.
Shop in the store for tshirts, mugs,
mousepads and books of your favorite
characters.