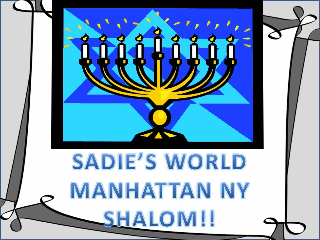 SHALOM NEW YORK !
SADIE'S WORLD, UPPER
WEST SIDE , NY NY
Sadie Weindein and her best
friend Missy Klein have a hobby
in NY. They prepare ketubots
which are jewish marriage
contracts with illuminated
letters and illustrations mainly
for relatives and family friends'
weddings. Sadie lives on the Upper
West Side in Manhattan with her
parents Hannah and Elias Weindein
and her brother Jakob. Her father
and Missy's father Lucas Klein jointly
own a jewellry store, and sometimes
make jewellry from Sadie and Missy's
designs. Shop the store for books with some of their ketubots and jewellry designs , and tshirts, mugs,
mousepads , notebooks etc for your favorite characters. Future offerings will include some jewellry
from Missy and Sadie's designs.