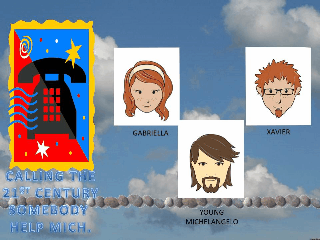 Michelangelo Buonnarotti, the famous artist is mysteriously
transported into our time in the 21st century.Best friends Gabby
and Xavier Castillo try to keep him gainfully employed while he is
stuck in Maryland in 2011.With hilarious results. He can still access
an astral plane free of space and time for conversations with and
advice from his patron Lorenzo Medici( Il Magnifico ), and his teacher
Ghirlandaio in his dreams, but cannot figure out how to get back
physically to the 1400s.Slated for production as an animated TV series.
Late 2012 release.

Michelangelo was historically a master of DISEGNO, which literally
means drawing or cartoon, so we have come full circle in this
enterprise inspired by Michelangelo.Check the store for art history
books on the work of Michelangelo, and mugs,tshirts,mousepads etc.