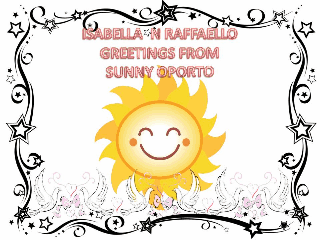 SUNNY OPORTO, PORTUGAL
Isabella de Lopez and best friend
Raffaello de Cristo bring greetings
from sunny Oporto in the Portugese
countryside from their neighboring
olive oil and honey plantations.
Join them as they wander through
the olive groves, and deal with the
honey bees. Set in the modern day
and chock full of honest fun in the
sun. They are both amateur painters
watercolorists, and they paint
endless beautiful landscapes and
have other adventures.
They are joined by Isabella's parents
Don Francisco de Lopez and Dona Iren
de Cortez de Lopez, her brothers
Pedro and Manuel, and Raffaello's father Don Felipe de Cristo.Shop the store for tshirts, mugs, mousepads,
books and other mementos of your favorite characters.