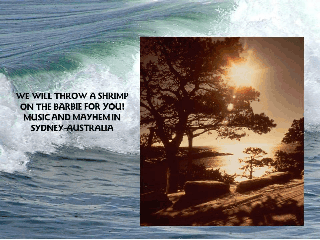 LIFE IS A SYMPHONY!
Chloe Donaldson and her best friend
Ginny Peruvia truly enjoy music, and
are in the right place for it in Sydney,
Australia as the famous Opera House
is right there. They live a life of
water sports, music and backyard barbeques
where the concerts are sublime, and all
parties are attended by Chloe's brother
Carl Donaldson, her father Jimmy Donaldson,
her stepmother Maisie Clicku, and Ginny's
parents Rosie and Marty. Everyone plays a
musical instrument- some more seriously than
others. Carl is a bit of a slacker.Maisie plays a
harp, Jim and Marty-guitar, Rosie-clarinet,
Ginny and Chloe-violin, and Carl-piano.
Look for future song releases from Ginny and Chloe,
and songs from their parents. Shop the store for tshirts, books, mugs , mousepads etc for your favorite characters.