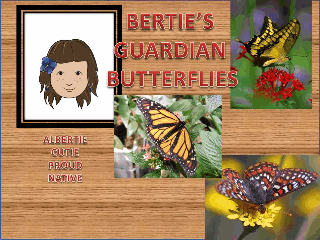 BERTIE'S SPIRIT QUEST
Life with butterflies and gardens in
the Rockies to start.Bertie is a little
native canadian girl who comes from
Alberta. Join her and her cousin Marta
Smarta and her aunt Beads of Plenty as
they seek their guardian spirits and
once found, have fun with those
relationships.Bertie`s spirits are butterflies
and she creates gardens and butterfly houses
to keep them close to her always. Marta`s spirit
is the humble porcupine, a prickly customer, and
she meets them everywhere. The first adventures
are in Alberta, and then they move to the Bavarian
forest in Germany and look for new experiences in
Europe. Bridging Native Customs with modern
western style life. ( All Historic Images courtesy of
royalty free Native American website.) Shop the store
for illustrated Bertie books, tshirts, mugs, mousepads,
notebooks etc. Suggest names for Bertie`s butterfly gardens and houses in the feedback forum, and we will create one in
the next book.