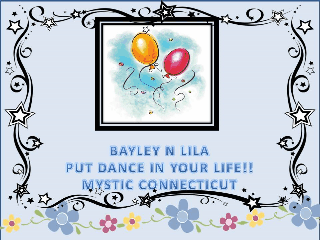 LIVE TO DANCE-DANCE TO LIVE
Bayley and the Le Maires are a
lively little family.Bayley and her step-
sister Lila are best friends and both love
to learn new dances. Their dance teacher
Madama Paradisa is a hippie who teaches
them many dances from bellydancing, through
ballet and salsa to the hawaiian hula.
Originally from the Mid-west Prairies,
the family lives in a small seaside town
in Connecticut called Mystic. They visit
the local aquarium every day in the summer
months. Their household includes Rachel
Le Maire- Bayley's mother, Lila's step-
mom, Daniel Le Maire, Lila's dad, Bayley's
step dad, their brother Tommy-tottie,
and their pet fish-Fishypoo. Shop the store
for books- Bayley's Seaside Idyll, mugs, tshirts, mousepads, Dance lesson books and other fun stuff from your
favorite characters.