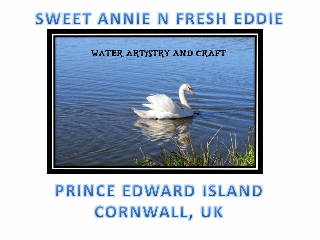 SWEET ANNIE AND FRESH EDDIE
PEI,CANADA /CORNWALL UK
Annie Carrs and Eddie Limmit are best
friends. They have a hobby..they build fresh
water fountains...first on PEI and then in
Cornwall, UK. They roam the beaches, enjoy
time with their families and build magical
fountains in the parks. They are inspired
by everything from Kangaroos to Celtic culture.
Their mothers Paige Carrs and Moira Limmit own
a craft store called 'Annie N Eddie Emporium'
and sell wonderful crafts, such as handknitted
wool sweaters, map tables, and miniature ships.
Neal Carrs, Annie's dad is a fisherman, and Ian
Limmit , Eddie's dad is a farmer, often seen with
his trusty sheepdog, Hamish. The crazy dog is Moira's
Dunkie...a very eccentric pooch. Moira, being Black Irish
is quite eccentric herself and takes Annie and Eddie on many adventures, so Dunkie suits her perfectly.Look for the treasure
hunt books when they wander around secret pirate caves in Cornwall, used by smugglers centuries ago to hide treasure.Shop
the store for books, mugs, tshirts, etc. for your favorite chums.