BON APPETIT-ENJOY THE SITE!!
-MOG, CEO-MOG MEDIA.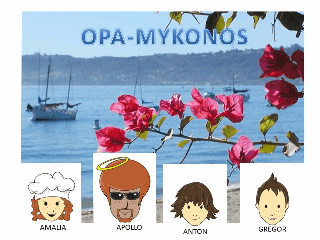 Amalia Constantinopolis and her brothers ,the terrible
Twoodles( twins Anton and Gregor) have a whale of a
time in Greece on the island of Mykonos where their
family has lived for 6 generations.Iris and Pericles, their
parents, who own the most popular restaurant on the
island, are kept busy with Amalia's ceramics, pottery and
chef lessons, the twoodles with their mischief and science
experiments in the kitchen, and timi, their oldest boy's
amazing ice cream creations for Amalia every sunday
afternoon.Amalia connects with Apollo, who is in disguise
as are several other Olympians in our world as she finds out
later, and he opens up a gateway for her in a huge old tree
so she can visit Olympus and talk to Athena, Cupid, Aphrodite,
Dionysus,and Zeus.CONVERSATIONS WITH APOLLO is a TV
series in production, scheduled for release in 2012. Check
the store for audio books and merchandise,and the blog page
for new releases. T-shirts,mugs etc.