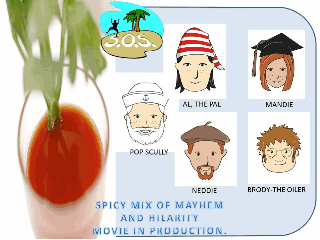 Join Alastair Whippet and his best friends Ned
and Mandy, the Feverish twins, as they attend
the Hedgburn art school in Ontario.This is a very
eccentric school with fashion students, or fashion
leaguers, watercolorists-the waters, oil painting-the
oilers, and graphic artists- the graphites.Many fun
happenings, mayhem and riots.Not only the students
in this madcap adventure-Al's landlady Mrs Phipps
is quite a stargazer to put it mildly and can size you
up in 5 minutes based on your astrological sign.
Check the store for tshirts, mugs and the 4 disc
audiobook of their first adventure which is in
production to be released as a full length animated
movie in late 2013. Check the blog page to track new
releases- such as their summer in an artist studio in
Dobbs Ferry, NY.